Our Favorite Honeymoon Destinations in Vermont
Are you thinking about a Vermont honeymoon? As New England DJs serving Vermont, we've seen a lot of beautiful areas within the state that would make romantic getaways.
A honeymoon in Vermont is ideal for couples who enjoy spending time outdoors, doing activities like hiking, biking, or skiing. Vermont is known for its beautiful lakes and mountains and picturesque towns.
Whether you want to spend crisp, cool days wandering through fall foliage or warm summer evenings by the lake, Vermont is idyllic to visit at any time of year. You and your new spouse can enjoy quality time together in a laidback, charming setting.
Check out our favorite honeymoon destinations in Vermont!
Stowe
One of the most popular places to visit in Vermont is the town of Stowe…and for good reason! Located in Northern Vermont, Stowe is the perfect mountain town.
The mountains of Stowe can be enjoyed during the summer and fall, with plenty of hiking trails that lead to breathtaking views. Then in the winter, you can hit the slopes, as Stowe is considered one of the best ski towns in the US.
For a fun, wintery Vermont honeymoon in Stowe, stay at a ski-in/ski-out resort where the slopes are right out your front door! After having fun in the snow, warm yourselves in a jacuzzi or relax at a resort spa.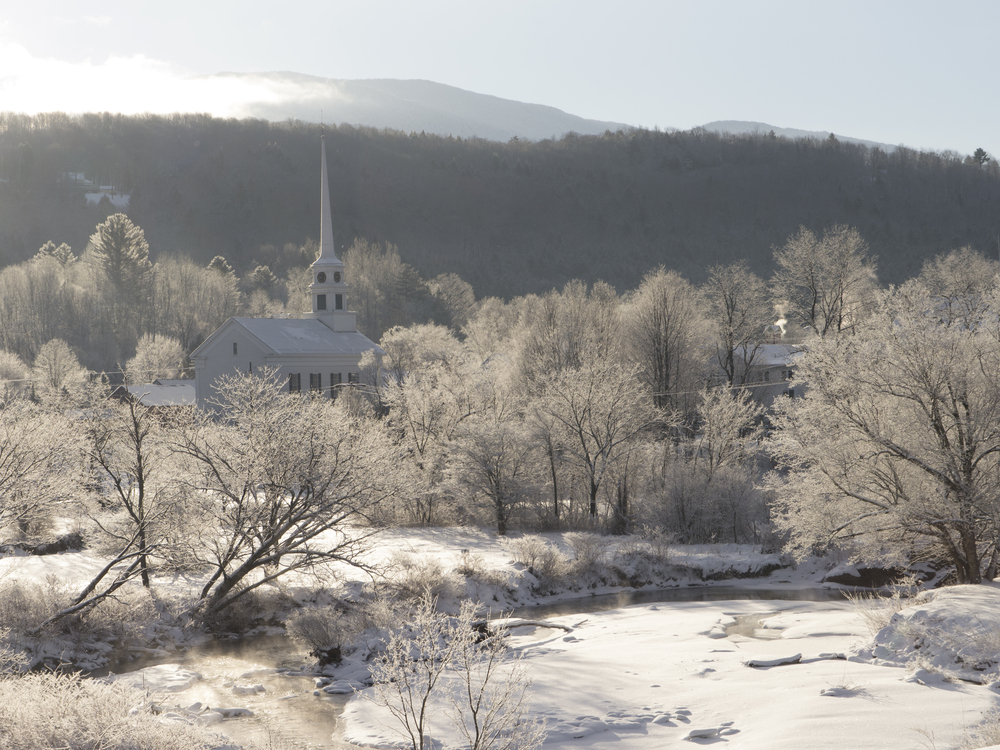 Grafton
If you and your spouse enjoy antiques, one of the best honeymoon spots in Vermont is Grafton. This restored colonial village is full of history and lovely mountain views. They've even been working on burying phone lines, giving the town a timeless appearance.
You'll feel like you've stepped back in time in Grafton. You can stay in a historic inn, have a drink in a tavern, or (for something really romantic) take a horse-drawn carriage ride at Friesians of Majesty farm.
If you drive a few miles north, you can seek out the Kissing Bridge in Chester. Or you can find the McWilliam and Kidder bridges right in Grafton, which are other picturesque covered bridges.
Additional fun stops in Grafton include various antique shops and the Grafton Village Cheese Company!
Woodstock
Not to be confused with the New York town of the same name, Woodstock, VT the quintessential pastoral town. If you spend your Vermont honeymoon in Woodstock, you can enjoy historic buildings and covered bridges, and visit local farms.
Stay at one of Woodstock's inns or bed & breakfasts, many of which are in restored Greek Revival and Georgian-style homes. Feast on farm-to-table breakfasts and wander acres of rolling hills and gardens.
Romantic things to do around Woodstock include visiting Sugarbush Farm, where you can stock up on maple syrup and learn about how trees are tapped. Or you can pick up your syrup and other local foods from the Woodstock Farmers Market.
Just a quick drive from Woodstock is the village of Quechee, where you can find Quechee Gorge (and one of our favorite Vermont wedding venues).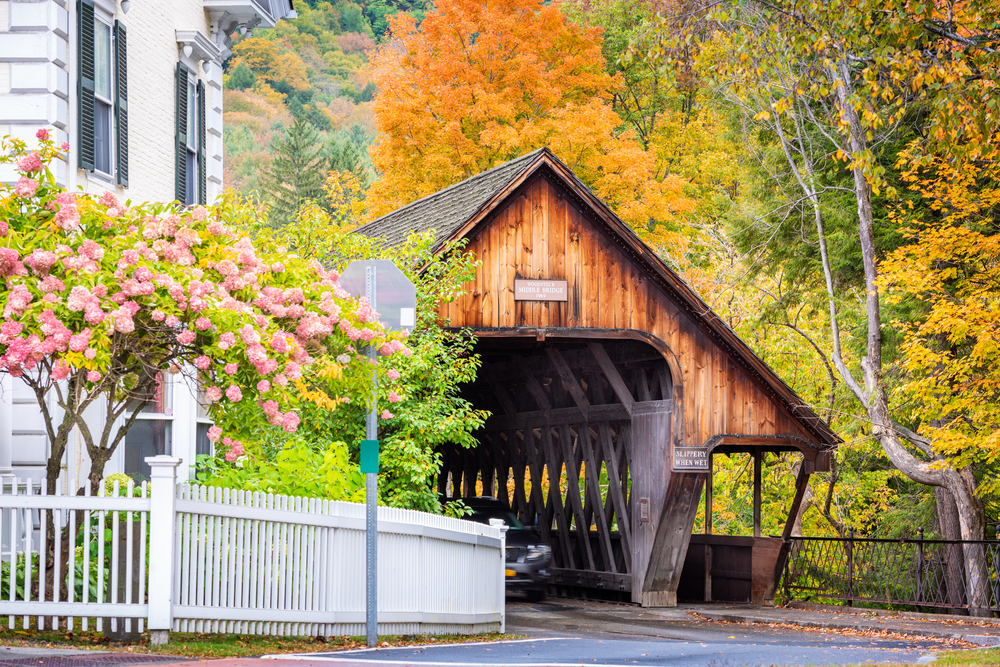 Manchester
Another of the cutest towns in which to spend a Vermont honeymoon would have to be Manchester. Located in Southern Vermont, within the Green Mountains, Manchester has historic sites and hiking trails.
Manchester's downtown is as quaint as they come, and the area has lots of good restaurants and breweries.
Take a tour of Hildene, the summer home of Abraham Lincoln's son, Robert, and meander through its gardens. Or if you're up for a hike, take the trail to Lye Brook Falls, which is the tallest waterfall in Vermont.
Burlington
Burlington may be Vermont's biggest city, but it still manages to have the charm of smaller Vermont towns. It's a city known for its culture, particularly its music and art scenes.
For those looking to do a Vermont honeymoon, but not too woodsy, Burlington is a great option. You can stay in a luxury hotel right on the shores of Lake Champlain and watch some fantastic sunsets over the water.
Stroll along the pedestrian-friendly Church Street Marketplace, full of boutiques and restaurants. Make sure to get a scoop of Ben & Jerry's ice cream, as the current shop is near the original!
From Burlington, you can also take a day trip to Shelburne, VT. Here you can visit the Shelburne Museum, pick apples at a local orchard, or do a wine tasting at Shelburne Vineyard.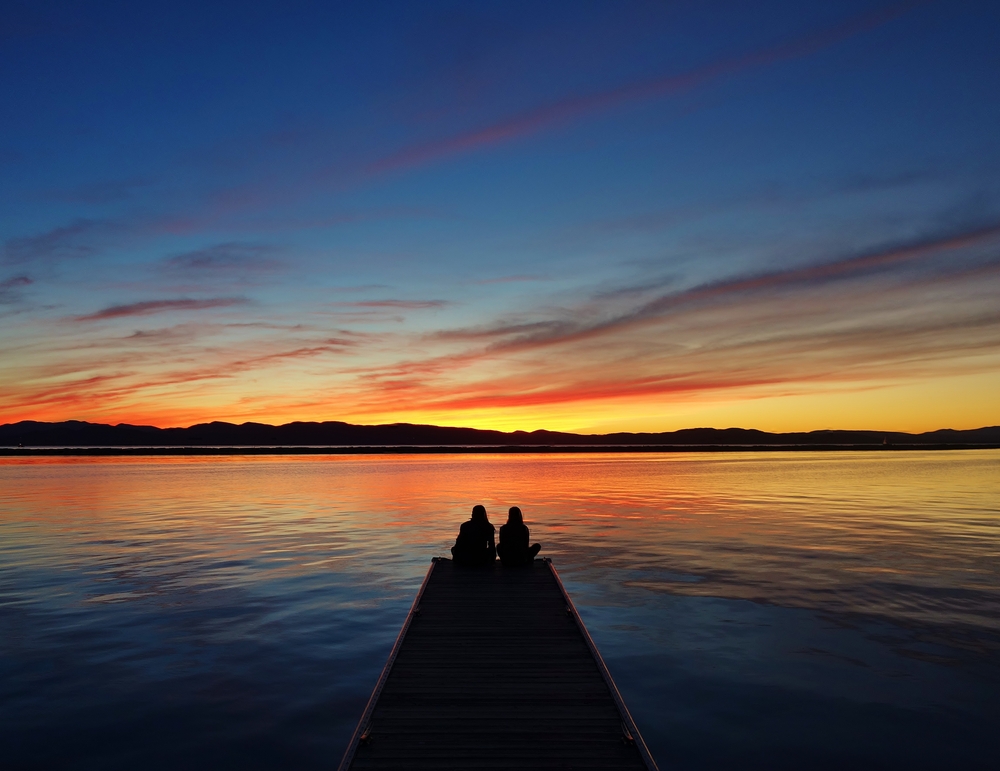 We hope this list has inspired you to find the perfect Vermont honeymoon location. There are so many beautiful, romantic places in Vermont that you can't go wrong with wherever you choose.