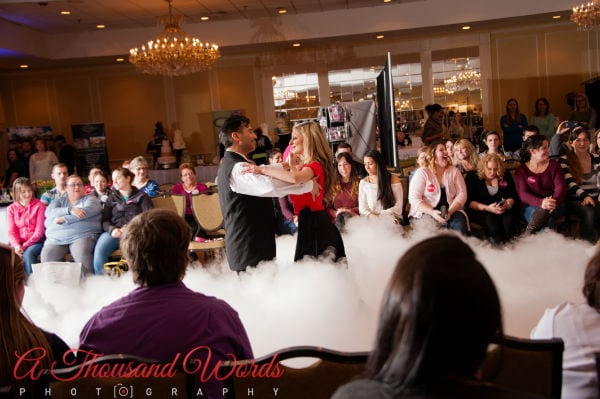 Tips for attending a Bridal Show
Here are some great tips to keep in mind before attending a bridal show. These are a great way to learn more about your local wedding talent – and have a great time! See what we mean about having fun – check out the full photo album of our recent bridal show  here.
BEFORE THE SHOW
Register Online
By registering for a show in advance, you'll get entrance for free, and your wedding planning team will save valuable time at show check-in.
Create A Wedding Email
We recommend creating an email address specifically for your wedding; like [email protected] or [email protected]. Email addresses like .edu or .gov may be blocked. Creating a temporary email specifically for your wedding will help keep your life less cluttered during your wedding planning process. You'll be receiving a lot of valuable information and most of your communication with vendors will be via email. You definitely don't want to miss anything important you're waiting for in the mix of your personal emails or by heading straight to spam.
Create A Show-Going Plan
If you've already started your wedding planning then congratulations, you're off to a great start! Our shows are a great tool for couples that are just starting or that are looking for a few last items to check off their list. In order to be confident and productive at the shows, we strongly suggest that you sit down with your wedding planning team and decide which vendors to target. Who do you still need to book to make your big day a success? If you're just beginning, decide on your top categories and look to meet these vendors at the show.
Come Prepared With Questions
The show is your chance to ask the vendors everything, so don't be shy. Come armed and ready with a list of questions.
Bring The Important Stuff
Remember the shows are to connect you with your perfect wedding vendors! Items that you should definitely make sure you have on hand are:
• Your wallet – checkbook and/or credit card. Many vendors offer show specials if you sign with them that day, so be prepared.
• Calendar – You may want to meet with a vendor at another time outside of the show to discuss things further. Bring your calendar to schedule future meetings immediately.
• Labels or Stamps – Pretty much every vendor that you speak with will ask you for your information to be entered into drawings or to send you follow-up information. Be sure to bring pre-printed address labels; we recommend template Avery 5160, or a self-inking stamp. Either way, include: your name, contact information (phone or email), and wedding date.
• Planner – Your wedding planner/organizer should be one of your "go-to" items during your planning process! You can keep track of your budget, booked vendors, meetings on your calendar and so much more!
DURING THE SHOW
Bring Your Significant Other, Family and Support Team
Planning your wedding is one of the most exciting things you'll do in your life. Bring the people whose opinions you value the most. Your wedding planning team should provide support, input and suggestions and should be who truly know what is most important to you and your significant other! Bring your fiancé; guys tend to have the most fun at the shows and really start to get involved in the wedding planning process. Our shows offer something for everyone. Everyone feels included, contributing ideas and suggestions – our shows are just plain FUN! Plan for plenty of time to meet your prospective vendors, taste the food, wedding cake, beverages, and of course, watch the fashion shows. On average, our couples will spend about 3 hours at the show. You're going to be doing a lot of walking, talking and collecting material, so we also suggest that you wear comfortable shoes and clothing.
Come Hands Free
At the show you will receive a welcome bag to help you collect literature and detailed information on the vendors that you meet. Coming to the show completely hands free is strongly recommended. The last thing that you want to do is juggle your coat, a bag, and your purse, while filling out information and navigating through the aisles.
Engage With The Vendors & Ask Lots Of Questions
This is your chance…don't be shy! After all, that's what they're here for. Our vendors want to help you, so find out everything you need or want to know to make your wedding perfect. Make sure you collect any information that you gather from the vendors and keep it in your welcome bag.
Take Lots Of Pictures
This is the best place to capture images and inspiration. We love Pinterest and our show is just like Pinterest, but live! So get inspired, aim and shoot! But, don't forget to also capture all of the memories of you and your wedding planning team at the show…you'll enjoy looking back on them later.
Stay For A Fashion Show
The fashion shows are a must see. You'll have a chance to get a sneak peak at some of the latest wedding fashions for you and your entire bridal party. Not only will you see the latest fashions, you can also get a glimpse at your entire look with hair, makeup, jewelry, attire and flowers.
AFTER THE SHOW
Relax
You just attended a bridal show and kick started your wedding planning in the best way possible! You've made your planning so much easier by avoiding endless hours of phone calls, meetings and appointments. Now kick up your feet and read through the materials you collected. Browse through all of the pictures you took.
Start Organizing
Now that you're home and have had a chance to relax and reflect on the show, you can begin to sort through all of the materials you collected. We recommend organizing it by categories. Some vendors have time sensitive offers and promotions; so don't put it off too long. Trust us this will make you feel so good, we love organization!
Schedule Follow-Up Meetings
Ok, now that you've organized all of your materials, start to narrow down your vendor categories to those that really stood out to you. Schedule follow-up meetings to go over any other questions or concerns you may have thought of since the show.
Good luck in your planning!