Our Favorite Wedding Venues in MA
If you are looking for wedding venues in MA, let us tell you about some of our favorites! As a New England DJ company, we at Main Event are delighted to provide DJ services to not only our home state of New Hampshire but Massachusetts as well.
As we mention in our FAQ, we are happy to travel! We even offer free travel within 50 miles of the entertainer's home location, and some of MA falls within that radius!
Being a MA Wedding DJ, we have worked at a variety of wedding venues, but some particularly stand out. We are proud to work with the following Massachusetts wedding venues as a recommended vendor. They will provide a beautiful space for your wedding and we will fill it with music! (Plus UpLighting and cloud-like fog if you so choose.)
Whether you are looking for a nautical, waterfront spot, or a country club among rolling green fields, these are some of the best wedding venues in MA. They could be the perfect spot for your special day!
The Barn at Gibbet Hill
If you are looking for rustic wedding venues in MA, The Barn at Gibbet Hill offers stunning views and delicious food. It's a pastoral oasis, complete with grazing cattle nearby!
Located in Groton, MA, The Barn sits at the foot of Gibbet Hill, near its sister restaurant, Gibbet Hill Grill. The Barn itself is a renovated 100-year-old barn with a deck that overlooks the surrounding hills. The Barn can seat up to 224 people with a dance floor.
You can say your "I dos" on the lawn, entertain guests with a cocktail hour on the deck, and then sit down to a custom-made menu full of local ingredients. Afterward, dance the night away on the dancefloor, with music provided by yours truly!
Danversport Yacht Club
If you are looking for wedding venues in MA to fit a nautical theme, Danversport Yacht Club is the perfect place. Located in Danvers, MA this venue is an elegant waterfront location on the North Shore.
Danversport is a family-run business and has been caring for guests for over 50 years! Their all-inclusive package will take some of the stress out of planning, as they assist you to create the best day.
This venue has everything you need for the perfect New England wedding. With manicured gardens, patios, and outdoor fire pits, guests will enjoy spending time outside. Depending on your guest count, you can choose between several indoor locations for dinner and dancing.
Cruiseport Gloucester
One of the best wedding venues in MA would have to be Cruiseport Gloucester. Located just north of Boston, Cruiseport Gloucester is the perfect venue for a New England harbor wedding.
With a vaulted ceiling and wall-to-wall windows that overlook Gloucester Harbor, the Grand Ballroom can seat 290 guests. At 4,500 square feet that's plenty of room for dancing!
The ballroom rental for a five-hour event includes event management, champagne toast, a private full-service kitchen, complimentary bartenders, and valet parking. It also includes an overnight stay in the newlywed suite at Cruiseport's sister property, Beauport Hotel Gloucester.
Black Swan Country Club
This luxurious New England country club has everything you need for a stunning wedding. Black Swan Country Club is located in Georgetown, and it's another of the highest-rated wedding venues in MA.
Surrounded by acres of golf green, Black Swan's property is full of classic charm. With two ballrooms to choose from, spacious dance floors, and balconies overlooking the area, Black Swan can be a beautiful backdrop for your special day.
The event planners at Black Swan will be with you each step of the way to help you achieve the wedding of your dreams!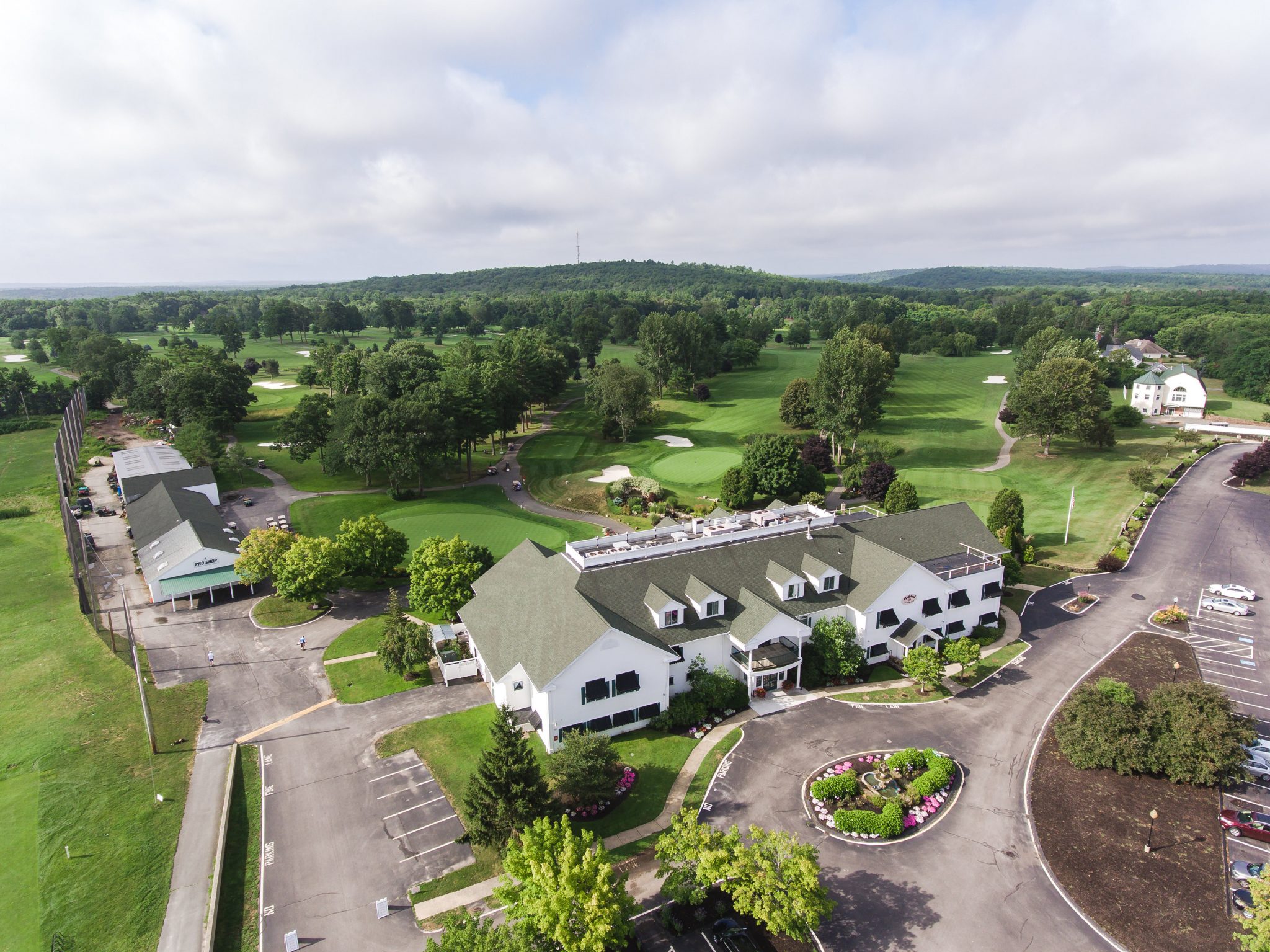 Colonial Hotel
The Colonial Hotel in Gardner is another of our favorite wedding venues in MA. It has a simple elegance and several options for being either indoors or outdoors. Nestled in central MA, this venue is particularly beautiful in the fall.
One of the best parts about the Colonial Hotel is that everything is onsite, including lodging. The "Over the Top " package allows you unlimited guest rooms at a discounted rate, so everyone can stay in one place!
The ballroom is a romantic spot, with hanging chandeliers and French doors. Even with a large dancefloor, it can accommodate up to 400 guests. Meanwhile, the courtyard tent, which is available from May-October can hold up to 300 guests.
The food is so good at the Colonial Hotel that you'll want to have your rehearsal dinner or after-party at the onsite pub!
We hope you consider our favorite Massachusetts wedding venues for your big day. If so, perhaps we'll see you on the dancefloor!