Creating New Moments with Your Music
An easy way to make your music stand out, without clearing the dance floor.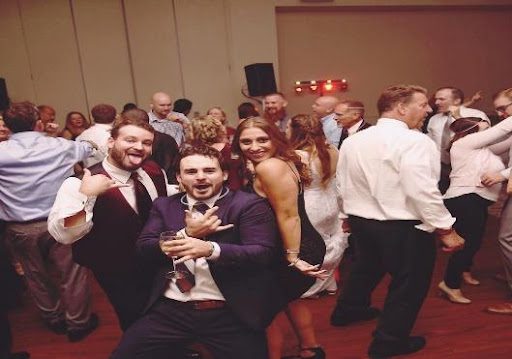 How many times have you gone to a wedding where your aunt gets loose to 'Uptown Funk', cousin Jay rips an air guitar solo to 'You Shook Me All Night Long', and then uncle Jack has his tie around his head for 'Shout'? The answer is, most likely, every time you've been at a wedding with your family. If I were to guess, those moments have lost their luster after seeing them so many times. 
At your wedding, you can create new, unique moments!
And you don't have to do anything, particularly out of the box. 
So many massive music stars and bands get pigeonholed into one or two songs that get deemed their "wedding songs". That doesn't need to be the case. There is no such thing as wedding music, the music you enjoy and grew up listening to deserves to be played at your wedding. There is no playbook we are pulling from, and there are no rules you have to follow. If your aunt likes 'uptown funk' she likes other pop music, if cousin Jay likes classic rock – he'll play the solo to any song and Uncle Jack, he just likes to party!
Here are a couple of suggestions for swapping out some of the 'wedding staples', 
which will freshen up the dance floor at your wedding. Any DJ can be doing this, but this will get the conversation started:
I Wanna Dance with Somebody – Whitney Houston ~ How will I know – Whitney Houston/Clean Bandit
Uptown Funk – Bruno Mars ~ That's What I Like – Bruno Mars
Shake it off – Taylor Swift ~ 22 – Taylor Swift
Bye Bye Bye – 'Nsync ~  I Want You Back – 'Nsync
The list goes much further and deeper, depending on you and your guests. This isn't to say there is anything wrong with any of those staple songs. If you want them played at your wedding, you should have them played. But, if you are tired of hearing them at weddings, you can be sure your guests are as well. If you want to see what we are playing at weddings and private events, make sure to subscribe to our blog and follow us on Facebook, Instagram, and Youtube so you can check out our personal song lists. Open up a conversation with your DJ about this if it is a concern of yours, they'll be able to help guide you down the right path to help create the perfect soundscape for your day!