How To Set Up A DJ System
Have you asked yourself, "Do I need a DJ for my wedding?" and decided perhaps you don't? If you're going the DIY route, you'll most likely need to rent some sound equipment and set it up. If you don't know how to set up a DJ system, we've got some pointers for you!
It might feel a little daunting, but don't worry. You don't need to be an engineer to put together a simple DJ setup for a low key event.
When renting audio equipment, there will probably be different tiers of pricing. Add-ons available might include extra microphones or stands. (Just keep in mind, these probably won't include some of the extra touches a DJ could bring!)
However, each package will include everything you need to amplify both music and speech.
Things You Will Need
If you're wondering how to set up a PA system for DJ-ing, you will need the following things:
Power source

This could be an electrical outlet or batteries. (Don't forget extra batteries or extra extension cords and power strips!)

Input source

Anything from which you want sound, including a microphone, laptop, phone, or iPad
This is easy to remember because these will be the things you plug in.

Sound Mixer

The meeting point between your input and output devices (aka the thing with the knobs)
A mixer controls how much audio from each device will go to the speakers.

Amplifier

This may not actually be a separate piece; if you are renting power speakers or a mixer amplifier, then the amplifier is already built in.
An amp takes audio signals and ramps up the wattage so it can go through the speakers.

A table or stand

On which to put the laptop, mixer, etc.

Any adapters you may need

If you're using a phone or tablet, make sure you have adapters like those that create an auxiliary cable.

Output device

Your speakers, since that'll be where the sound comes out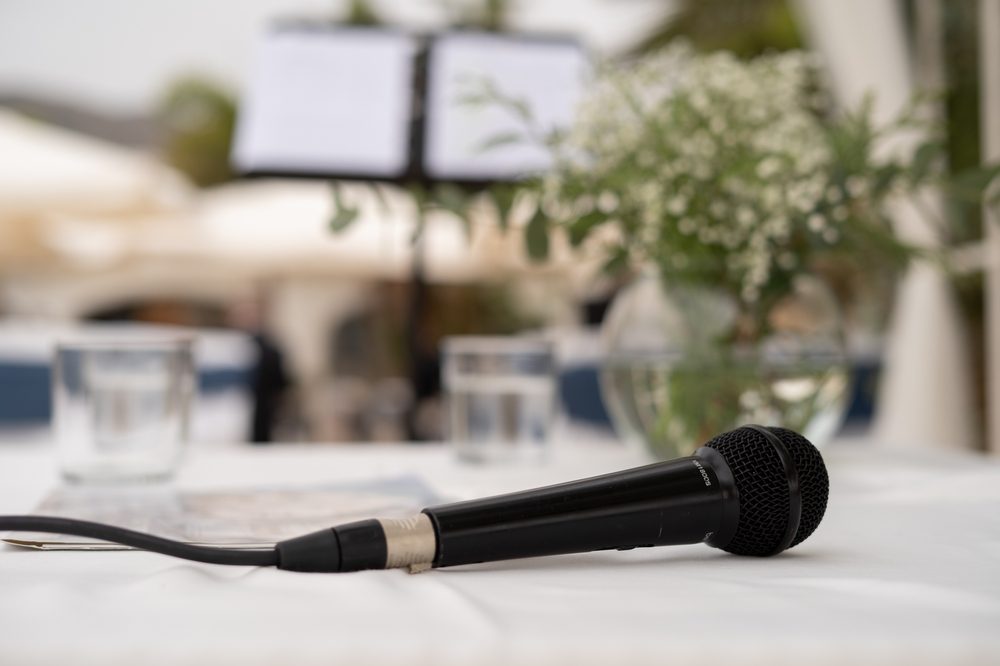 How to Set Up a DJ System
Now that you have all of your equipment gathered and ready to go, it's time to put it all together! This is how to set up a laptop DJ system, but you can substitute the laptop for a tablet or phone.
Note: This DJ setup can vary depending on what equipment you have!
1. Figure out your location
Your first step is figuring out where to put your sound system. The event coordinator, or someone from the venue, will most likely suggest where to put the DJ setup.
The standard placement of speakers is on either side of the stage, ceremony area, or dance floor. You want your speakers pointed toward the guests, but high enough that they don't blow away the people nearby!
To avoid sound feedback, place your microphone behind your speakers.
Place your table out of the way, but close enough to the stage or dance floor that whoever is running sound can see what is going on.
Remember: before you turn anything on, make sure all your levels are turned down!
2. Connect your output
If your speakers need to be plugged into an outlet, plug them in then run the cables along a wall, or tape them down so no one trips on them.
Next, connect your speakers to the mixer. Plug the matching ends into a) the back of the speaker and b) the mixer (usually where it says "main output").
Now turn on your mixer and then the speakers.
3. Connect your input
Depending on how many devices you are plugging in, you'll most likely be using the plugs on the mixer labeled "line input". (Sometimes there will be specific spots that say "mic" for microphones.)
Underneath each line input, you'll see a column of knobs, called a channel. Your mic can have one channel, while your laptop will have another. The knobs control the sound of its corresponding channel.
If you have a wireless microphone, you'll need to plug its receiver into a power source and connect it to the speaker as well.
4. Test everything
Make sure everything is turned on. Play some music from the laptop and slowly bring up the fader or "main mix" (the toggle on the mixer that's usually on the bottom right corner) to "unity" or 0 decibels. Next, bring the laptop's "gain" to unity on its channel.
Adjust the volume on the laptop first, then bring up the volume on your speakers.
Also, speak into your microphone the same way you plan to speak during the ceremony.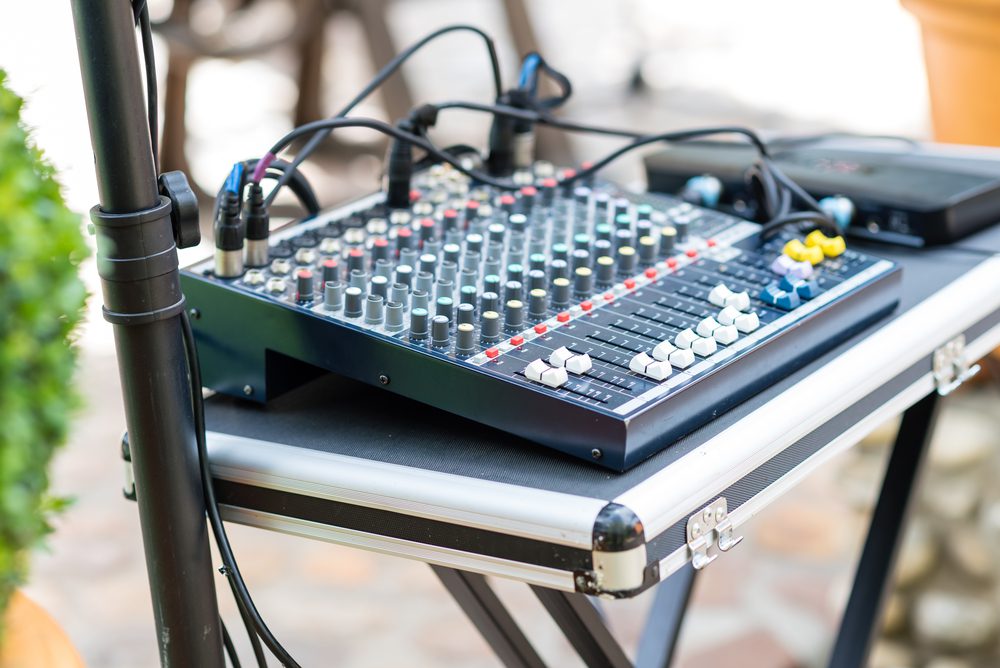 We hope you found these instructions for how to set up a DJ system helpful! If this seems scary, remember that you can leave it to our professional DJs so you can just dance the night away.