Discovering Unforgettable Maine Honeymoon Escapes
Are you considering a honeymoon in Maine? As New England DJs serving Maine, we have seen a lot of beautiful areas within the state that would make romantic getaways.
A Maine honeymoon is perfect for couples looking to relax along a rugged coast, feast on seafood, and wander through quaint New England towns. Maine is known for its natural beauty and laidback atmosphere. Their license plates even say "Vacationland," which makes sense!
You can spend quality time with your new spouse in a cozy bed & breakfast or seaside inn. Many of our favorite wedding venues in Maine also do honeymoon packages.
If you want some help discovering unforgettable Maine honeymoon escapes, check out our ideas below!
Acadia National Park and Bar Harbor
Acadia National Park is one of the most popular Maine honeymoon destinations for couples who enjoy the outdoors. Exploring the park's trails through trees and along the coast is the perfect way to spend a honeymoon in Maine.
For something really romantic, visit Acadia's carriage roads as they were meant to be seen…in a horse-drawn carriage. Ride next to your new spouse as you pass through peaceful forests and streams. For additional romance, drive to the top of Cadillac Mountain to watch the sunrise, then watch the sunset at the Bass Harbor Head Lighthouse.
If you'd rather not camp, you can stay in the neighboring town of Bar Harbor. Bar Harbor is the quintessential Maine town, with shops, restaurants, and lovely places to stay along the water. For romantic honeymoon stays, try booking at the Bar Harbor Grand Hotel or Bar Harbor Inn & Spa.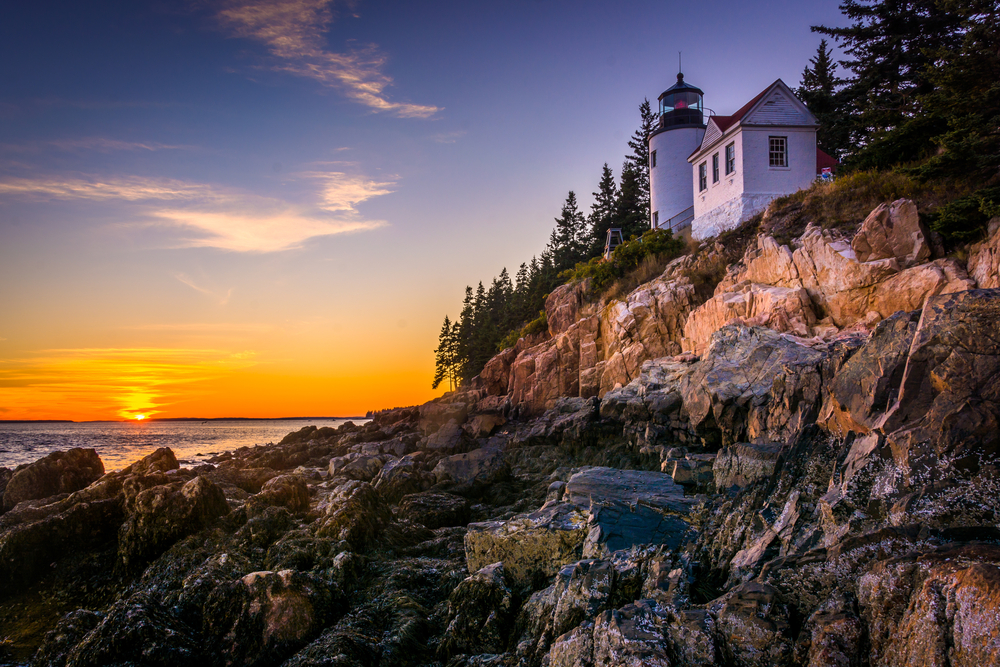 Ogunquit
Another great place to spend a honeymoon in Maine is Ogunquit. It's a charming coastal town full of culture and stunning views.
If the two of you enjoy art, there are galleries and museums, like the Ogunquit Museum of American Art. There is also Ogunquit Playhouse, which is well-known for its regional productions of favorite musicals. If you're then inspired by the shows you see there, try belting out some songs yourself at the Front Porch Piano Bar.
To view the ocean from land, stroll along the Marginal Way footpath, which is a lovely, easy walk, or dip your toes in the waves at Ogunquit Beach. For something a bit more exciting, you can view the ocean from the water by booking yourselves a sailing cruise!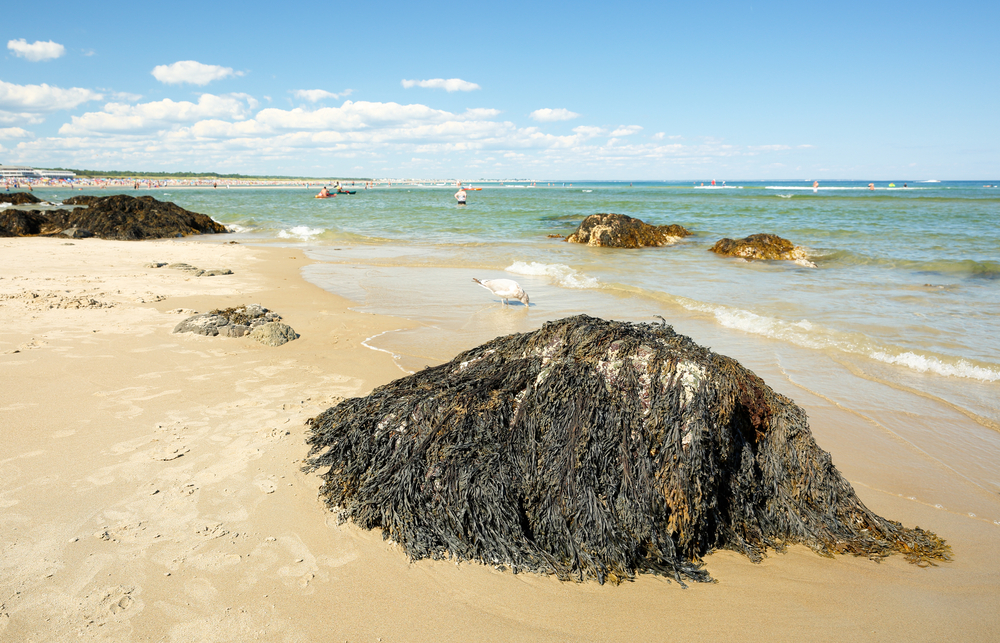 Portland
Portland is a great Maine honeymoon choice for couples who want a place that's a little bit more metropolitan, but still mellow. Portland is the most populous city in Maine, so there is plenty to do, but it still manages to feel laidback like the smaller towns. (If you are flying into Maine for your honeymoon, you can fly into the Portland airport.)
Walk amongst Portland's fishing wharves as well as Victorian mansions. If the two of you are foodies, you can enjoy trying everything from oysters to potato donuts! There are also lots of breweries at which to do a tasting and/or take a tour, including Allagash and Rising Tide.
If you're looking for Maine honeymoon resorts, you'll find lots of options in Portland, such as the Portland Harbor Hotel and the luxurious Inn by the Sea. Enjoy spa or adventure hotel packages that include things like a champagne sunset sail.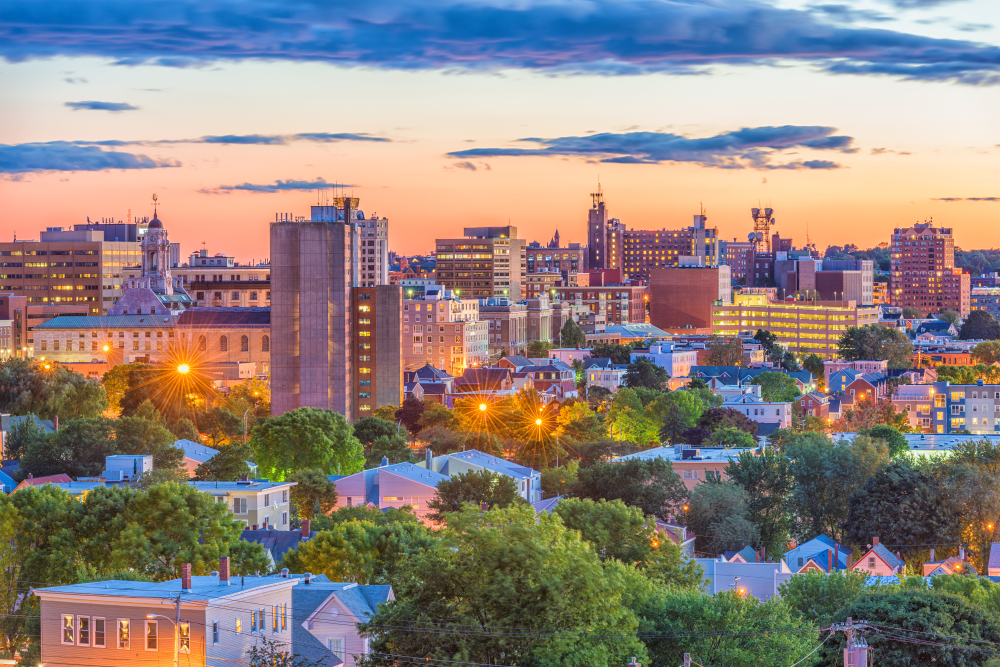 The Kennebunks
For those looking for more picturesque towns in Maine, consider honeymooning in Kennebunk or Kennebunkport. (Combined they are known as the Kennebunks). Located between Ogunquit and Portland, you could stop in the Kennebunks while visiting either!
The Kennebunks are known for their New England charm. Snack on lobster rolls and or grab clams from a local shack, while wandering down quaint streets. View stunning coastal mansions homes from the car, by foot, or while on a boat tour.
Couples who enjoy water sports will have fun canoeing, kayaking, and swimming. Rachel Carson National Wildlife Refuge is good for a hike or paddle while Gooch's Beach is a great place to play or relax on the sand.
You can spend your honeymoon in Maine staying in historic shipbuilders' homes that have been converted into inns and bed & breakfasts. Spend relaxed, romantic mornings dining by the water and listening to the sound of the ocean.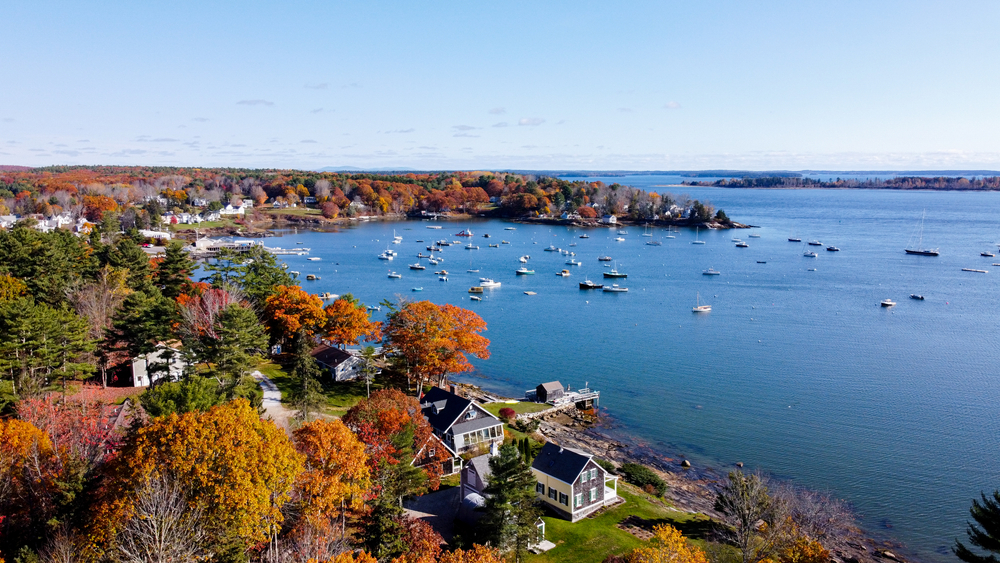 We hope this post has given you some ideas for your honeymoon in Maine! With so many beautiful spots along the coast, Maine is the perfect spot for a New England getaway. The two of you are sure to have an unforgettable time in Maine!